Seed Dispersal Ecology Under Global Change
How does dispersal disruption affect biodiversity?
Dispersal is a central process in ecology and evolution. Movement of individuals affects genetic diversity and species' capacity for adaptation, the spread of populations, and patterns of biodiversity across local, regional and global scales. Global change events, such as climate change or landscape fragmentation, alter dispersal processes, affecting a species' ability to move or adapt to global change. We examine the consequences of dispersal disruption on plant performance, spatial patterns, population spread, and coexistence.
Vertebrates disperse approximately half of all angiosperms and more than 80 percent of tropical tree species. More than one-quarter of vertebrate seed dispersers are threatened with extinction, which will disrupt the dispersal of flowering plants globally. Declining abundances of vertebrates is due to landscape fragmentation, biological invasions, logging, and overhunting. Hunting is reducing the abundances of large- and medium-sized mammals, many of which are important seed dispersers, seed predators, and herbivores. Hunting acts as a manipulation within a natural setting, and this accidental experiment allows us a glimpse of what happens to complex mutualistic and antagonistic interactions when a few crucial players (e.g. seed dispersers and predators) are missing.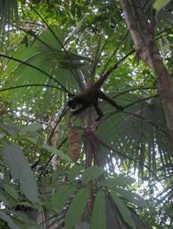 Larger-seeded plant species are expected to be more susceptible to dispersal disruption than smaller-seeded species (Wright, Stoner, Beckman, et al. 2007). In support of this prediction, Dr. Beckman found that seed dispersal was reduced in hunted compared to protected forests in Central Panama for the larger-seeded of two canopy tree species differing 16-fold in seed size (Beckman & Muller-Landau 2007). The second-order effects of severe defaunation on forest ecosystems are not well understood, partly because of the complex web of ecological interactions that are affected. For example, seed predation by nonpreferred game species was found to be lower in hunted relative to protected forests for the larger-seeded species (Beckman & Muller-Landau 2007), which few previous studies have quantified. Differential effects of dispersal disruption on plant species varying in seed size have implications for forest and ecosystem processes as seed size is correlated with competitiveness of plants and shade tolerance.
As of yet, we have a limited understanding of the consequences of dispersal disruption for plant populations and communities. Empirically studying the effects of severe defaunation is inherently complex due to the many ways in which humans affect the environment, the large spatial scales over which defuanation occurs, and the long-time scales required to study tree populations. As trees tend to be long-lived, there may be a long time-lag between dispersal disruption and observed declines in population growth rates creating an extinction debt in many forests. Using a spatially-explicit model, Drs. Beckman and Adler (University of Utah) are examining the potential consequences of dispersal disruption for plant populations and communities.
Dr. Beckman and Prof. James Bullock (UK Centre for Ecology and Hydrology) are applying recent advances in the study of species' movement to develop a general classification scheme to assess species' risk to climate change in fragmented landscapes within the U.S.A and Europe. Currently, this project focuses on plants, but can be generalized to all taxa. They are synthesizing existing data on dispersal and analyzing relationships with plant functional traits to enable prediction for unstudied species. Combining this with existing demographic data (COMPADRE), Dr. Beckman is generating virtual species to examine the sensitivity of plant species to habitat fragmentation using recently developed mathematical models that incorporate environmental heterogeneity. This research will help identify species at greatest risk and aid the development of conservation strategies to ensure their persistence under global change. At SESYNC, Dr. Beckman aims to work with stakeholders to develop a classification scheme that would be utilized in assessing risk of species with inexpensive metrics and aid in the design of nature reserves that would enable species identified as at risk to track changing climates.
Understanding, predicting, and mitigating the effects of global change on ecosystems requires strong collaboration across disciplines to advance beyond case studies and current limitations in theory. Drs. Haldre Rogers (University of Iowa), Clare Aslan (Northern Arizona University), and Beckman are building a transdisciplinary network of scientists and practitioners working at different scales, in different bioregions, using a wide arsenal of tools to address questions in seed dispersal ecology crossing scales, systems, and epistemologies. The goal of CoDisperse is to advance scientific understanding and public appreciation of the role of seed dispersal in population and community dynamics, enhancing our ability to predict the effects of global change on plant diversity and develop effective management and conservation measures. Check out CoDisperse and get involved!